I now have four - whoops five - whoops four - whoops five? bikes. Well, it's complicated. They are:
new warranty replacement road frame - 2015 Specialized S-Works Tarmac (still matte black), size XXL/61cm, frame combined with my previous Dura-Ace group that was on the old Tarmac and most of the rest of the old Tarmac's separable parts. Frame specs. Got some DA9000 11-sp drivetrain bits and new handlebars. Added a 25t cog without losing 16t as I would have by staying 10sp and 11-25. 10sp parts back to old Tarmac, that will be a winter bike. September 2015 got some Cosmic Carbone 40C wheels, carbon wrapped metal "under rims" for good braking.
cross bike - 2014 Specialized Crux Expert Red Disc, 61cm. Bought barely used from a doctor after the Conquest Ti broke. Specs on Specialized's site. Carbon frame and fork, SRAM 2x11, 46-36 crank and 11-28 cogs, Red hydraulic discs, swapped S-Works carbon seatpost. Hydraulic system recalled, swapped to Avid BB7 SL mechanical brakes and non-hydro Red 22 levers. Then back to Red hydro again. This has come back from warranty repair on the rear dropout reinforcing plate. It's now FOR SALE also.
new cross race bike - 2018 Specialized S-Works Crux farme, 61cm. Built with Ultegra 2x hydro/mechanical, it's through-axle and flat-mount brakes. Also some nice Reynolds 46mm wheels.
new cross commuter bike - 2018 Specialized Crux Sport, 61cm. This has lower-end Shimano components but is also through-axle and flat-mount brake equipped. The idea is that since sometimes I break stuff, I will have some backup pieces/parts/bikes for cross racing although I'm not a "pit bike" guy.
new 29er - 2012 (v1.0) Niner Jet 9 RDO, size XL. Built with Niner 3-star kit, XT disc double chainring, Fox Float 32 120mm 15QR, Stan's tubeless Flow EX/DT 350 wheels. Sweet.
new tt bike - 2011 Cervelo P2, 58cm Ultegra 10-sp. Bought without wheels since I have plenty, and immediately swapped on the 54t ring with the Tarmac's old FSA crank since for some reason it came with a 50/34. Compact on a TT bike? And with a 12-25? That also got swapped for 11-23. July 2015 added Quarq Riken AL replacing PowerTap SL+ wheels so I can have power data while racing. October 2015 got some Cosmic Carbone SLS (metal braking surface) for training wheels.
[former, transitioning to winter "beater" now] "temporary" road bike while Ti Eddy's broken weld is off getting fixed. Again. 2007 Specialized Tarmac Expert, size 61cm/XXL. I threw my Cosmics on it since they have the Mr. Tuffys, had to swap cogs as it's my first 10-speed. More manly 11-23 cogset to replace 12-27 that it came with. Will see if 10sp Ultegra cogs flex like the 9sp ones. Found PowerTap steel-body freehub assembly to stop the 10sp cogs chewing on the aluminum one; just replaced pawl spring on that after less than a year...and again with the pawl spring breakage. So back to the Cosmics and added Quarq SRAM S975 powermeter. Cosmics reached end of their useful (to me) life with pulling a spoke through the rear rim, so got another set w/new stickers. Fancy hidden-cable Dura-Ace components installed now since Ti Eddy's probably not coming back - what am I saving them for then? Now hosting 10sp DA7900 parts and its original handlebars again, needs a (powermeter?) crank to be winter/beater bike. Put the OEM crank on for now.
dead warranty replaced former new road frame - 2012 Specialized S-Works Tarmac SL4 Black, size XXL/61cm, frame combined with my previous Dura-Ace group that was on the old Tarmac and most of the rest of the old Tarmac's separable parts. Built bike specs. Got some DA9000 11-sp drivetrain bits and new handlebars. Added a 25t cog without losing 16t as I would have by staying 10sp and 11-25. Sat down on top tube in front of seat tube and it cracked there, eventual warranty replacement frame (above). 10sp parts back to old Tarmac, that will be a winter bike.
dead (dropout broke, August 2012) - SOLD w/o wheels tt bike - looks like a 2000 Specialized Allez Pro M4 frame (58cm), was free to me because of a ding in the downtube (I got connections), yellow/black, was using old 8-sp STI shifters and rear derailleur from croaked Eddy, my spare set of old DA Look pedals, my 10-year-old Scott Lemond II aero bars, an old fork I got from Rob for $20, the Avocet 45 that used to be on the mountain bike (with a new battery), Jay's Ionic cranks, and some stuff Will and Ed found around the shop (pre-STI 600 front derailleur, Suntour Superbe calipers, random Tange headset, random bars, stem, seat, and seatpost) - oh, and Will's old Spinergys that he was nice enough to sell me. They just make it look really fast - see picture below. Upgrades: Jay's crank was kind of wobbly (huh huh huh) and the pre-STI derailleur wouldn't adjust full range, so I talked myself into a new Ultegra crank (175, 53/39 but added a Sugino 54t) and front derailleur with DA splined BB. Then I crashed on the rear Spinergy sideways, after a year of random replacements got a HED trispoke and a "full aero" bar setup (incl 9-sp barend shifters w/new rear der.), followed in the spring with a matching trispoke for the front. Adding Easton "aero" carbon fork, Ritchey ScuzzyLogic Pro headset...very nice. Picked up HED disc clincher (freehub) used from a friend. Where did my freewheel tubular Trialist go? Who knows?
[warranty replacement for below] '00 Eddy Merckx Majestic (Ti by Litespeed) Specs: 62cm, somewhat oversize/multishaped Ti, Ti colored, upgraded to new 9-speed DuraAce STI (shifters + rear derailleur & 11-21 cogs, new chainrings) and got a Kestrel EMS Pro fork in "natural" color. Picture below - hey, it's about a pound lighter than steel, woo hoo!! Shiny new Rolf Prima Vigor race wheels - I should take a picture of these, they are nice. And a little too light for me perhaps, slipped skewer on rear caused replacement rim #1, broken drive-side spoke caused replacement spoke #1...sold to Craig. Old Eddy's taper-BB got sticky, replaced with splined Ultegra BB and new 175mm 53/39 Dura-Ace crank - whew, just missed having to upgrade to 10-speed. That crank developed crack in spider, replaced with now-old-style 9-sp DA. Wore through 2 sets of Rolf Vectors, now working on Mavic Cosmic Elites. Ultegra BB got clicky after 5 years, replaced with DA BB - I re-discovered that Eddy has Italian not British threading, have a spare BSC for cross or TT bike now. Also discovered spoke hole cracks in rear Cosmic Elite after less than 2 years, ordered up another one since they are so cheap. A week before 2008 LP200 "discovered" broken weld at drive chainstay/dropout plate. Sent back to Litespeed for a-fixin, parts in a pile in a box. 3 months and $400 later for non-warranty repair, Eddy is back with red decals, bar tape and cages. Same weld breakage happened at July 4th, 2010 criterium in Hailey. Sent back again. Powertap SL+ wheelset and Garmin 705 moved to Tarmac where the 10-sp steel Shimano cogs will chew on the aluminum freehub body some more. Attempting to accumulate some 10-sp parts for the Ti Eddy. Maybe a Quarq to avoid this hub business. Still have a pile of parts but no fixed frame yet (July 2013). Broken-weld frame hanging in garage after floating around town for a while, consensus seems to be that it won't re-weld cleanly.
[former] '94 Eddy Merckx MX Leader - I never wanted to have to buy another road bike - too bad, because Eddy got a snapped chainstay. See the archive for some gory details on how I got hold of it. Specs: 62cm, lugged Columbus MXL Nivacrom, Team Motorola colors, Dura-Ace STI (8-sp) components, 175mm 53-39 cranks, 12-21 cogs (forced to buy 12-23 most recently, but want 12-21 again); American Classic aluminum seatpost, Avocet AirO2 saddle, Salsa stem, Scott Drop-Ins (44cm), 32 hole Mavic Open Pro rims along with a new set of race wheels - Rolf Vector Comp, DA/Look pedals, Avocet 45 computer - Eddy's website
SOLD because Niner - '02 Gary Fisher Sugar 2 - Mine is size XL of course. Manitou Mars fork died, replaced with Fox 32 F100RLC. And now, a crack in the swingarm means I'm sending it back to Gary. Gary sent back an all-aluminum swingarm to replace the one with carbon stays. I guess that's all he had left for replacement parts from that old of a bike. Oh, and broken BB lockring/cup means I now have '08 XT crank and external BB. Picked up another pair of ATAC pedals so I can use my good mtb shoes with both mtb and cross bikes.
'96 Trek Y-22 - Now with saggy 2nd shock, reason to get some Sugar (above) - but pressed into occasional service as commuter bike when other bikes break. Back in '99, went for some new components. Size large, nude carbon, '96 Judy XC on first replacement cartridge, '98 XT 175mm 44-32-22 crank/V-brakes/brakeshifters/rear derailleur with original LX front derailleur - new XT front won't slide down far enough thanks to new design (originally had LX components with XT rear derailleur), old XT seatpost, random brake booster thingy, using "the good wheels": XT hubs w/11-28 cogs, 32 hole rims, spokes are supposed to be 14ga. Added a rear shock with lockout for Moab 98 after the already-rebuilt original died - this shock appears to be some sort of trashed now too, so I got the Sugar...anybody wanna buy the Y?
'99 Redline Conquest Cyclo-X - the cross/commute bike! That broke in 2003! Pictures here! Size 58cm c-c, welded 7005 frame (and fork?) white with red decals, (warranty replacement is a 2003 Conquest Pro frame, red/white/black w/1-1/8" steer & therefore new headset and stem - Forgie 135mm) (semi-warranty replacement for that one is a 2005 Conquest Ti frame, same red fork) 175mm 53-39 RX100 crank/STI levers/front derailleur, 105 rear derailleur, some Shimano BB, STX cantilever brakes, 13-26 cogs, RSX 32-hole hubs with random Araya rims - retired due to excessive spoke breakage, replaced with 32h Ultegra/OpenPro from Colorado Cyclist, old school M747 SPD pedals, Modolo bars, Velo saddle, random seatpost and Aheadstem, Redline-branded knobbly 700x35c tires. Other upgrades: random V-"style" brakes w/ Travel Agents (mucho better for MTB trails), 105 crank (175, 53/39) with Ultegra splined BB (original BB was getting wobbly). Recently added bar-top brake levers...how convenient! Open Pro rear rim showing spoke hole cracks, replaced with CXP33. ATAC pedals that came on the Sugar now in use. And now using the 9-sp DA from Ti Eddy: STI levers, derailleurs, crank. Jason gave me a 12-27 DA 9-sp cogset. Tres chic for a cross bike, no? And now (10/2013) another broken Ti weld at chainstay/dropout. Maybe time for some couplers?
Hey! Pictures!
These then would be older bikes: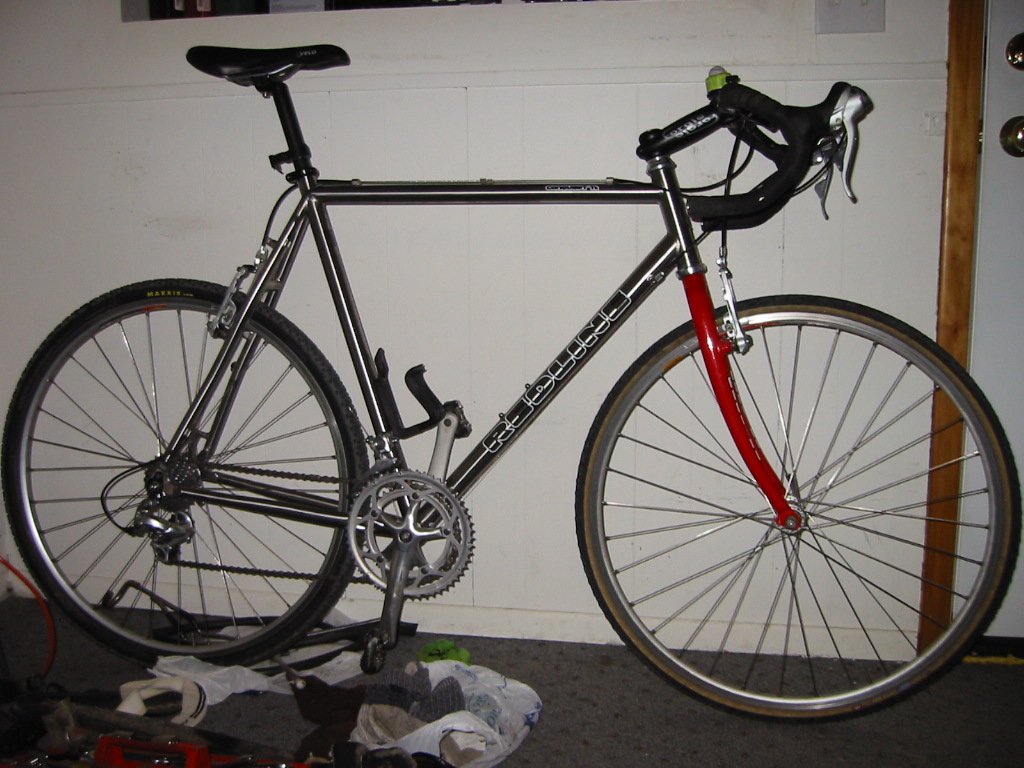 Conquest Ti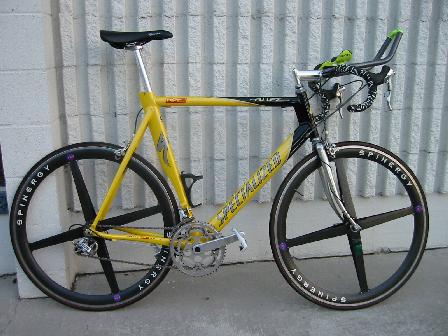 allez pro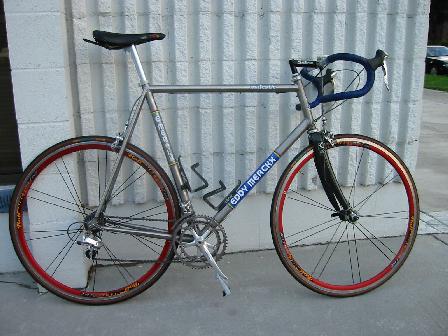 "new" Ti Eddy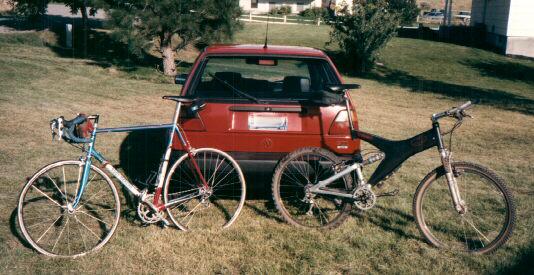 rear view - back in the day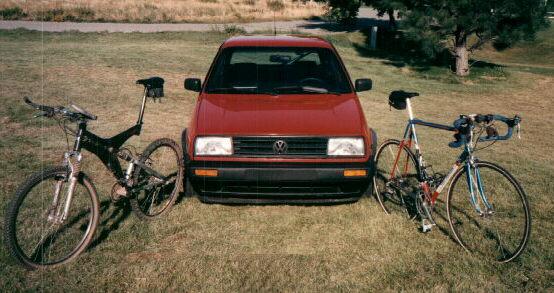 front view - back in the day